Clambake Animation is an award winning, full-service 2D animation and recording studio. We're lean, agile, flexible and efficient, with a boutique mentality and the ability to deliver all aspects of production under one roof.  While we're audio-driven, we do it all: from writing, scripting, and casting to producing highly creative and innovative animation with built-on sound design, editing, and post production work.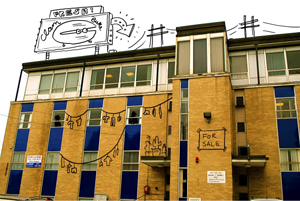 Clambake Animation also delivers highly creative, business-savvy animation for the advertising industry, and we work with varied organizations requiring innovative yet affordable animation for a variety of products and services.
Partner/Executive Producer Carl W. Adams and Partner/Creative Director André G. Lyman have worked together for 20 years, producing original adult and children's programming appearing on literally all of the television and cable networks:  ABC, CBS, NBC, Cartoon Network, Adult Swim, Comedy Central, FX, PBS and more.
Partner/Managing Director Carrie Snyder brings 25 years of business, operational, management and marketing expertise to Clambake from Lotus, IBM, and various start-ups.